Elevate your gaming style with Gamer Diorama's premium game-related products! Find the coolest dioramas and keychains for an epic gaming experience.
Items also available at:
Shows & Styles Collections
---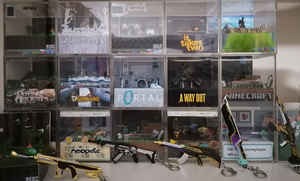 More Dioramas
Get ready for the ultimate gaming display! Gamer Diorama is bringing you more epic dioramas that will blow your mind. Check back here at least once a month to stay up-to-date on our latest releases. Your gaming setup just got a whole lot cooler!
More Keychains
Keep your keys on point with Gamer Diorama's upcoming game-related keychains! Our newest collection, including Valorant designs, is in production and will be dropping soon. Remember to check back here monthly so you don't miss out on the latest and greatest in gaming accessories!